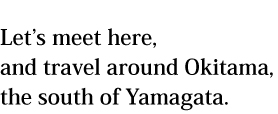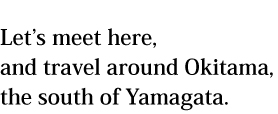 Yonezawa|西吾妻山
Nagai|黒獅子まつり
Nanyo|烏帽子山公園の桜
Takahata|安久津八幡神社
Kawanishi|ダリヤ園
Oguni|赤芝峡
Shirataka|べにばな摘み体験
Iide|飯豊連峰
Okitama Chiho in the south of Yakagata-ken is an attractive place. Starting from Mt. Azumasan and Mt. Iide, there are parties for viewing sakura in the spring, and full-blown irises, lilies, roses, safflowers and dahlias in the summer. The beautiful maples in autumn are gifts from the nature. And you can enjoy the hot spring lighten by the snow around in the winter. Please come to Okitama, and enjoy the travel of exuberance full of "welcome here".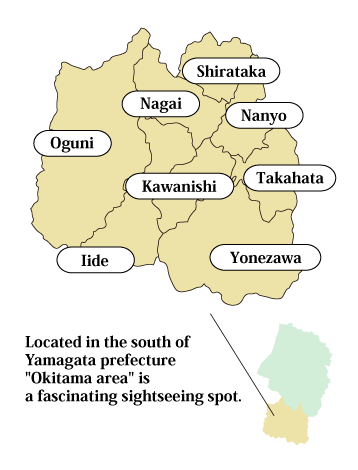 Yonezawa-shi, a castle town of history and tradition, passing the culture of Uesugi .
Nagai-shi, the town of green and flower and the water fostering the ship-transportation culture of Mogami River.
Nanyo-shi, the town of fruit and folktale, that is surrounded by flowers in every season.
Kawanishi-machi, the town with groups of ancient tombs and the best dahlias in the East.
Takahata-machi, a place easy to live, creating the history with ground, water and people.
Oguni-machi, the country of white forest, that is surrounded by colorful patterns and the magnificent nature.
Shirataka-machi, the hometown of classical sakura and safflower where you can meet the nostalgic scenery.
Iide-machi, where the scenery of rural village remains and where the nature and culture are harmonized.